The charity Civic Duty is helping to further the reach of a new short film called Undetectable about living with the HIV/AIDS disease and is also supporting the AIDS Healthcare Foundation for research, prevention, and treatment of HIV/AIDS. Others are encouraged to also help launch the film into the festival circuit by donating on the crowd-sourcing website Indiegogo.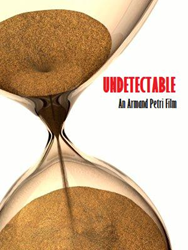 (PRWEB) April 09, 2014
Civic Duty, cofounded by Julian Omidi and Dr. Michael Omidi, is helping fund the launch of a poignant short film entitled Undetectable about an HIV-positive man and the life drama following his diagnosis. Donations to help launch the film into the festival circuit are being collected on the crowd-sourcing website Indiegogo with ten percent going to the AIDS Healthcare Foundation for research, prevention, and treatment of HIV/AIDS.
I have known Armand Petri, the writer of Undetectable, for several years and believe he is a very talented and creative artist. His film depicts the very real, spiritual journey of a widely misunderstood population of people, says Julian Omidi, cofounder of Civic Duty. Undetectable is a powerful film with the potential to both educate and effect profound change. Civic Duty is proud to help launch this movie, ensuring it is seen by a wide audience. At the same time, the films production crew is giving a portion of contributions received to the AIDS Healthcare Foundation which does amazing work to assist those living with this very difficult diagnosis. This too is an incredibly worthy cause our charity is happy to support.
Millions of people around the world have been diagnosed with HIV/AIDS. Even today, some 30 years after the diseases discovery, many of those stricken live in hiding, afraid of the social stigma, struggling alone to cope with the diagnosis and its treatment. The new short film Undetectable provides a glimpse into the world of an HIV patient, helping to show that many of todays 300,000+ patients enjoy healthy, positive lives with productive jobs and committed relationships.
Undetectable (http://www.undetectablefilm.wordpress.com) is a surrealistic depiction of one mans journey — Adam, a young gay man living with HIV in Los Angeles. The XX-minute short film was written by Armand Petri and follows Adam in his first year post diagnosis, showing the impact on his life and providing a twist ending that will surprise viewers. The overriding message is that HIV should no longer be considered a death sentence, and that those in treatment can lead normal, functional lives.
Donations to help fund the film, with a portion going to the AIDS Healthcare Foundation, can be made at: http://igg.me/at/undetectable/x/5044285 Fans can also follow the movie on Facebook at: http://www.facebook.com/UndetectableFilm.
Civic Duty (http://www.civicduty.org) is dedicated to mankinds search for meaning and promotes the values of its founders, philanthropists Julian Omidi and his brother Dr. Michael Omidi. The charitys mission is to inspire creative outreach, community service, and volunteerism through the stories of every-day people who are making an extraordinary difference in the world. Civic Duty does not accept monetary support, but instead encourages direct donations to the charities featured on the organizations website. To get involved and help make a difference, send a message using the websites Contact Us function. More information about Civic Duty can be found on Facebook, Pinterest, Google+, and Twitter.
Random Top Media Listing meant for Video Slots –
Video Slots
Tags: exercise